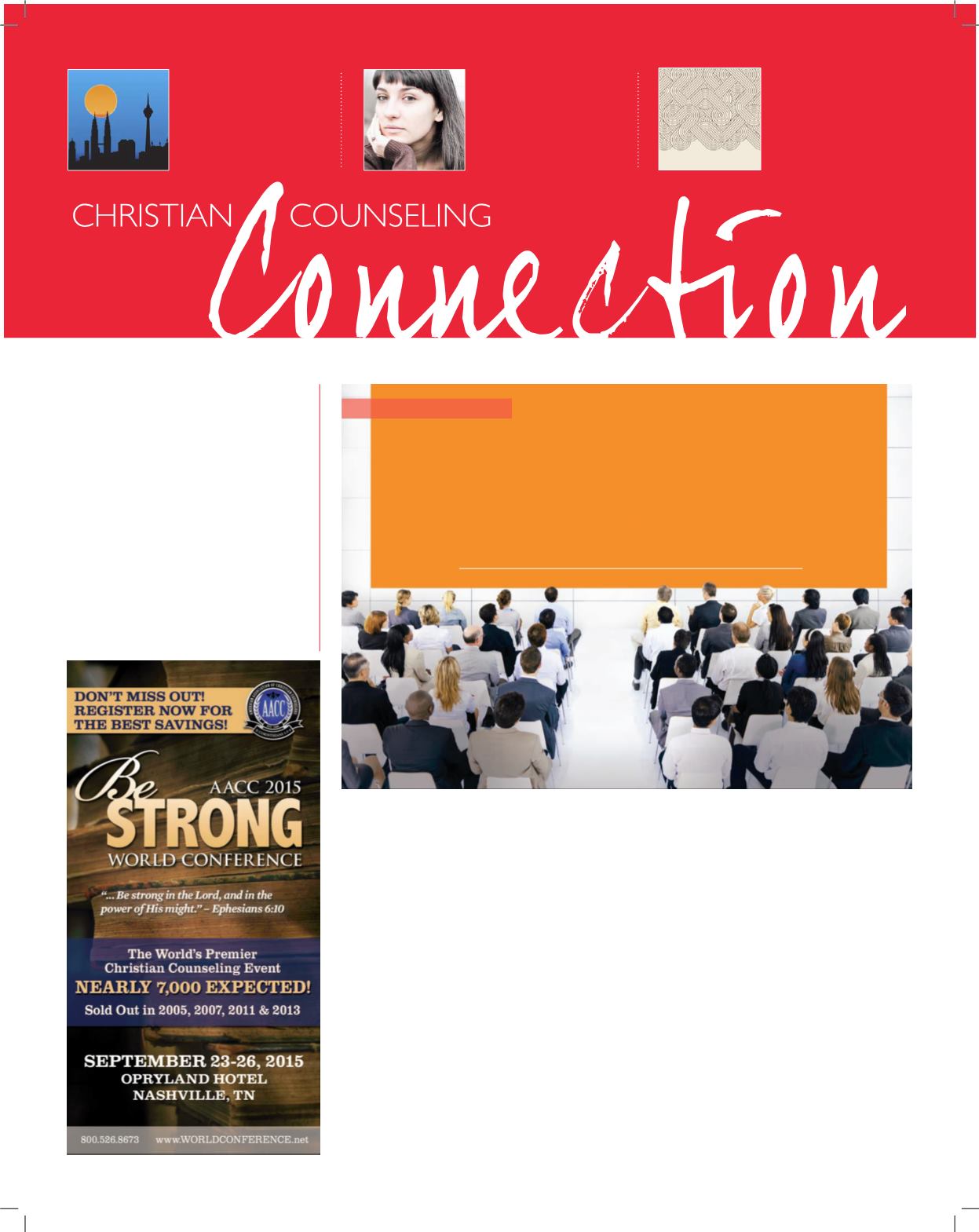 A Publication of the American Association of Christian Counselors
Innovative Thought & Practice 8
Y
ou asked… we listened. Based on your feedback,
AACC's 2014 International Marriage & Family
Summit in San Diego offered brand-new
Specialization Counselor and Coaching Intensives,
as well as engaging keynote addresses from world
leaders, powerful praise and worship with conference
favorite, Michael O'Brien, cutting-edge professional
workshops, fellowship, and networking opportunities. The
Specialization Counselor and Coaching Intensives will also
be offered at the National Christian Counseling Conference
in Branson, Missouri on October 2-4 (nationalaacc.com).
Our team redesigned the "Conference Experience" with
flexibility and learning opportunities like never before
to help make these events more than just your average
academic seminar. With advanced training options,
attendees can now tailor each event to meet
their
Drawing on the latest research, each intensive features
12 full hours of in-depth training from national experts…
and all in an interactive, experiential format. Connect with
colleagues… learn and grow together… and, best of all,
walk away with a comprehensive notebook/session manual
and a Professional Certificate of Completion that will
better equip you to provide competent counsel and care.
Each intensive runs the entire length of the conference,
from Thursday morning through Saturday afternoon,
breaking for plenary sessions. Continuing Education
credits are automatically included for the intensives, and
a total of 18 CEs may be earned by participating in the
entire conference experience.
A second available option at the National Conference
is creating your own personalized schedule by picking
and choosing full or half-day pre-conference workshops.
In addition, attendees may choose from six, diverse
professional conference tracks, including: Marriage,
Family and Relationship Counseling; Clinical Assessment,
Counseling Skills and Techniques; Pastoral Care, Biblical
Counseling and Spiritual Formation; Grief, Crisis, Trauma
and Disaster; Child and Adolescent Disorders; and
Whether it's attending an exciting intensive or
creating your own conference schedule, we promise you
won't be disappointed. Join counselors, psychologists,
marriage and family therapists, social workers, pastors,
ministry leaders, and coaches from around the world to
The National Association of
Christian Counselors (NACC)
Malaysia held their third annual
overt abuse are fairly easy
to recognize, identifying
covert abuse calls for greater
Dialectical Behavioral Ther-
apy and Eating Disorders: A
DBT is an effective evidence-
based orientation in the treat-
ment of eating disorders and
NEW 12-HOUR SPECIALIZATION
COUNSELOR TRAINING &
COACHING INTENSIVES AVAILABLE